Fender Barnes profits from an institution he doesn't believe in: marriage. He's a talented designer, but a reluctant jewelry store owner, thanks to his pop's retirement. He's cynical, he's jaded, he's not entirely certain about the concept of love, but he's happy to sell an eager young guy an engagement ring for his fiancée to be—until moments after the transaction when that eager guy is hit by a car and killed, and Fender's conscience pays a rare visit.
He retrieves the ring and decides to find the woman his customer intended to marry. That woman turns out to be Ginger Stevens, twenty-something ski instructor, who—despite being full of guilt and self-doubt after the death of her boyfriend—is someone Fender finds he quite enjoys being around. He's smitten.
Which is all well and good, except that after he meets her, Fender can't do it. Though it's right there in his pocket, he can't tell her about the ring. Instead, he embarks on a long, ridiculous quest to find a way to tell her the truth he knows she deserves. Aided by advice from Pop and the antics of his best friend Sam, Fender tries desperately to juggle his budding romance with the reality he knows could ruin it.
Will he find love or foul it up? Can Ginger move out of the past to embrace what the future has to offer? Meet this unlikely pair in Beck Anderson's heartfelt and fabulously funny second novel, The Jeweler.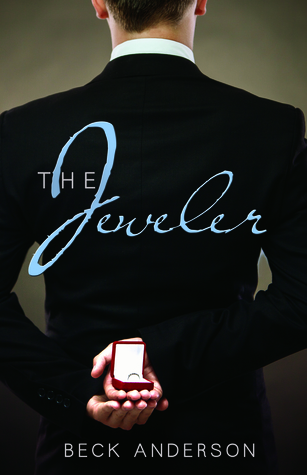 Adult Contemporary Romance
Published by Omnific Publishing
About the Author
Beck Anderson loves to write about love and its power to heal and grow people past their many imperfections. She is a firm believer in the phrase "mistakes are for learning" and uses it frequently to guide her in writing life and real life.
Beck balances (clumsily at best) writing novels and screenplays, working full-time as an educator, mothering two pre-teen males, loving one post-40 husband, and making time to walk the foothills of Boise, Idaho, with Stefano DiMera Delfino Anderson, the suavest Chihuahua north of the border.
Website
|
Facebook
|
Twitter
|
Pinterest
|
Goodreads
My Thoughts:
This book was witty, comical, and entertaining with a cynical jeweler named Fender as the main character.
Fender was good at designing jewelry but never really liked the selling part. He doesn't really buy the marriage thing and can't understand why a man would want to spend so much on a woman that will just want to exchange the ring or sell it when the relationship fizzles out.
The story begins when Fender sells Brad an engagement ring for his girl. Brad leaves and gets hit by a car......
Fender gets advice about what to do and decides to give the girlfriend the ring. Only after meeting Ginger, he can't bring himself to do it.
I found this one to be different and charming. I enjoyed the quirky characters and the laughter that they brought forth from me.
I would have liked more steam but it was enjoyable without it.
I received an ecopy in exchange for my honest opinion.
Don't forget to enter the Comment Incentive Giveaway. It is a great chance to win a book you'd like to have! The link can be found at the top of the page.